::Basics::




Name-Mitsuko

Age-18

Sex-female

Location-montreal

Sexuality-bisexual

Status-i have a bf

Occupation(if student, what do u want to be)-tattoo artist

Star Sign-aries

Body Mods-many tattoos, sometimes piercing, i change them alot

Define your style-

some japanese, goth, lolita, alt, casual influences


::Favorites::




10 Bands- HIM, Depeche mode, The cure, Disturbed, Nekromantix, Tiger Army, Misfits, Placebo, Primal Scream, Stray Cats

5 Movies- Alice in wonderland, the nightmare before xmas, corpse bride, spirited away, battle royale

5 TV Shows- FRIENDS, jamie kennedy experiment, beavis and butt-head, daria, south park *i love comics*

3 Books- 5150 rue DesOrmes, Le passager, michel tremblay and patrick senecal stuff.

Non-Alcoholic Drink- MILK

Foods-sushi

Colors-purple,purple

Animals-pigs, cows, cat, dogs, fish

Holiday-

halloween, xmas


::Opinions::




Gay Marriages- i speak french but ill try my best. i dont even understand why isnt legal everywhere yet. we cant say anything about whos getting married with whom. love doesnt have gender or sex.

Self Mutilation- i think its a disease no? i cant be agaisnt or not a disease like we cant be agaisnt schizo or paranoid people. well if its not id like to know. anyways, its sad. those people need help. they're suffer.

Drug Abuse- i had some problems with drugs. im clean since 3 years now *yes i was really young* since i have some panic trouble and agoraphobia. drug abuse can make mental problems. im living with it since 3 years. and its really hard to deal with.

Abortion- every woman should have the right to. Its sad right. but when you're getting an abortion you probably feel like crap and its sad for the girls too. i prefer someone who get a abortion than someone who keep their child and dont take care of him. BUT abortion is not a contraception. people who doesnt protect themself because they can get a abortion anyways. thats sucks. i dont know about united states but here a abortion its free. some people abuse. thats sad too.

Anorexia-

those people are sad too, its a mental disease too. self esteem problem. i had some problems with food too *not anorexia* and its hard. you need food to be.


::This or That::

Kitties or Doggies: both

Sweet or Sour: sweet

Eyeliner or Eyeshadow: eyeliner

Hot or Cold: hot

Braids or Dreads: dreads but fake

Marilyn Manson or Dave Navaro: manson

Black or White: black

Tattoos or Piercings: tattoos

Chap Stick or Lip Gloss: lip gloss

Boots or Sneakers: boots

Starbursts or Milky Way

anything milky


::Finishing::




Why should we Accept you- because when im not tattooing im on the net, i love being active on online community with cool people. i love fashion, i love music, i love alt stuff.

Promote us to 3 communities(NOT promoting ones, no one ever looks at those)-




Who reffered you to this community?

no one


::Pictures::




Post at least 3-10 pictures of yourself, and a 100x100 picture that you would like on the accepted list: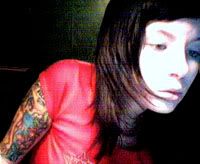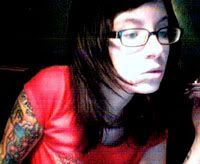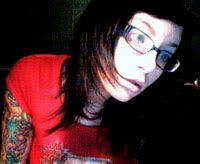 at my job, this time im the one getting a tattoo .. and yes it was fake. it was for our portfolio.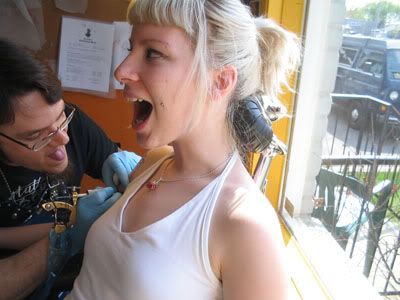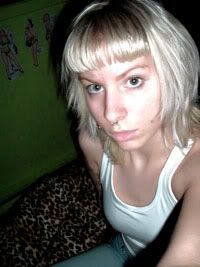 this one is photoshopped but i think the glasses are funny